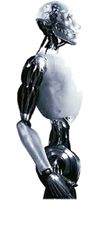 Seminář z umělé inteligence I a II
0/2 Zk
Roman Barták, KTIML
---

Výběrový referativní seminář o umělé inteligenci (UI) věnovaný aktuálním tématům a trendům umělé inteligence. Referovaná témata rozšiřují látku probíranou v základním kurzu umělé inteligence. Vhodné pro všechny studenty se zájmem o danou problematiku. Možnost čerpat náměty pro bakalářské a diplomové práce i pro softwarové projekty.

The past seminars can be found at the following page.
Probíraná témata mohou čerpat z následujícího seznamu:

řešení úloh, prohledávání, řešení her, omezující podmínky, logika, reprezentace znalostí, plánování
neurčitost, rozhodování za nejistoty, učení, zpracování přirozeného jazyka, neuronové sítě, strojové učení
robotika, počítačové vidění, multi-agentní systémy, UI v kosmu, UI a armáda, filozofické pojetí UI
význačné osobnosti UI (Turing, McCarty, Minski, Newell, ..) a jejich konkrétním přínos
klíčových projekty v historii UI (Shakey, DeepBlue, Watson, Grand Challenge, Robocup, ...)
...

Další zdroje lze hledat na hlavních konferencích o umělé inteligenci AAAI a IJCAI, případně na stránkách předchozích ročníků semináře.

V roce 2015 je možno (z fakutních počítačů) přistupovat na PDF všech knih ze série Synthesis Lectures on Artificial Intelligence and Machine Learning vydavatelství Morgan & Claypool Publishers.
---

Seminar ZS 2022/2023 (NAIL004):
Úterý (Tuesday) 9:00 - 10:30, lecture room S8 (Malá Strana, 1st floor)
Seminar will run in English (Czech on demand) and it will be organized as a series of Oxford-style debates on various AI-related topics (the topics discussed in recent years can be found at the seminar history page). Each side of the debate will be represented by two students (two "for" and two "against") pluse there will be a moderator. The side to which a student is allocated does not necessarily reflect his/her personal opinion!
Debate schedule:
prior debate:

Each side is requested to send one reference (web link, paper, etc.) to the teacher at least one week before the debate and this reference will be publicly available through the seminar web page.

debate day (Tuesday):

introduction of the topic by the moderator (5-10 minutes)
initial anonymous voting of audience (the result will be revealed after the discussion)
opening remarks (each speaker will have 5 minutes for the initial statement supporting his/her side; the order of sides is selected randomly at the beginning, speakers from both sides speak on a rota basis)
intra-panel discussion (between the speakers and the moderator with chance to react to the other side; 10-20 minutes)
Q&A (questions/comments from the audience with response from the speakers; 20-30 minutes)
closing remarks (each speaker will have 2 minutes; the order is reverse to the opening order)
final anonymous voting of audience
decision of the winner (the side with the increase of number of votes wins)
Between the Oxford Debates we will include Hackathons solving selected technical problems.
04.10. 2022
canceled
11.10. 2022
Kick-off meeting
18.10. 2022
Intro to AI research at KTIML, team formation
25.10. 2022

Oxford debate
Should automated trading systems be allowed to trade on financial markets?
[Algorithmic Trading] [High Frequency Trading] [HFT and stability] [HFT and Crashes] [Flash Crash 2010] [Crash 2010 video]

P.M., M.S. (for); K.B.O., M.Ch. (against)
before: 78% (for) - 22% (against)
after: 82% (for) - 18% (against)
01.11. 2022

Hackathon
How can AI help with efficent energy usage?


Team A: optimizing industrial heating system
Team B: adaptive street lights optimization
Team C: balancing energy production and consumption
Team D: smart house

08.11. 2022
Oxford debate
Should AI be allowed to kill?
[Lethal Autonomous Weapons] [AI Arms Race] [Future of Warfare with AI] [Slaughterbots video]
R.G., T.T (for); S.R., M.Z. (against)
before: 37% (for) - 63% (against)
after: 25% (for) - 75% (against)
15.11. 2022

Hackathon
How to eliminate AI Bias?

Team A: bias in computer vision (identifying examples out of domain)
Team B: bias in ML (human in a loop, education of users)
Team C: bias in medical field (better collection of data)

22.11. 2022
Oxford debate
Should AI be used for monitoring employee performance at work?
[Monitoring Remote Workers] [Workforce Surveillance]
Y.A., M.M. (for); G.K., M.P. (against)
before: 38% (for) - 62% (against)
after: 33% (for) - 67% (against)
29.11. 2022
Hackathon
How can AI help students?


Team A: a search tool for study materials
Team B: constructing individual study plans
Team C: automated student tutor
Team D: extracting lecture notes from videolectures

06.12. 2022

Oxford debate
Should user own AI-generated art?
[DeviantArt] [AI in Art Contest] [AI Copyright] [AI Art in Copyright Law]

L.A., E.A. (for); R.T., D.W (against)
before: 50% (for) - 50% (against)
after: 64% (for) - 36% (against)
13.12. 2022
Hackathon
How can AI improve life in cities?


Team A: smart toll
Team B: automated garbarge collection
Team C: automated individual public transport

20.12. 2022
Oxford debate
Should fully autonomous cars be allowed?
[Pros&Const] [Benefits] [Ban] [Technology]
U.O.D. (for); P.M. (against)
before: 60% (for) - 40% (against)
after: 70% (for) - 40% (against)
03.01. 2023
canceled
Zápočet je udělen za aktivní přístup k semináři. Přesná charakteristika "aktivního přístupu" bude určena vždy na začátku semestru podle konkrétní podoby semináře
prof. RNDr. Roman Barták, Ph.D.

Katedra teoretické informatiky a matematické logiky
Matematicko-fyzikální fakulta Univerzity Karlovy
Malostranské nám. 2/25, 118 00 Praha 1
Czech Republic

e-mail: bartak (AT) ktiml.mff.cuni.cz
tel: +420 951 554 242